Hello and hi all, I'm Mabelle.
In the course of this challenge, we will be accountability partners. It's all about the little consistent steps we take daily on this journey will help you reach your goal. With me as your trainer , remember There's nothing impossible. Fitness is a lifestyle. Let's do this together, im here for you every step of the way!

Language: Bahasa Malaysia, English, Mandarin

"Consistency is the key to success."

Customer Reviews
Write a Review
Ask a Question
24/10/2020
Nor S.
Malaysia
Pengembaraan berilmu ke gaya hidup sihat
Alhamdulillah seronok dan beruntung untuk join program BSK ini. Banyak ilmu dapat dari segi pemakanan workout yang pasti saya tak tahu. Daily workout yang bantu dan live workout yang pelbagai dari semua coach sangat menarik dan tidak membosankan. Berharap akan join lagi sangat berbaloi.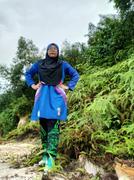 22/10/2020
Dayang N.
Malaysia
31/10/2020
Siti N.
Malaysia
Great experience for life restart
This program is really good for people who want to learn healthy living. Coach Mabelle always encourage us in a good way. I love zumba and Tabata session we have. There no such thing as forcing you to do and I learnt that scale is just a number. What matter is you stay active and healthy. The team member in this group also very inspiring and supportive. I love this experience. Would certainly join next BSK with the same coach.
25/10/2020
Noraini B.
Malaysia
Wonderful Team & Coaches
BSK to me is a great helpful programme. I totally enjoyed being one of the lucky participant in this programme. It is not only about how to lose your weight but also how important to do it correctly!.. Many thanks to all the BSK Team and Coaches especially Coach Kevin Zahari.. will miss your email and video every morning.. Also to Coach Mabelle.. She is a great Coach. She provide us with correct guide, advices and the best part is her energetic workdance! Thank You!
25/10/2020
Azzizatul H.
Malaysia
Super positive and vibrant coach
She enjoyed dancing and it is inspiring to see her enjoy in something she have passion into it. Even though i didn't enjoy dancing, coach Mabelle sparks my life, makes me eager to find the exercise that i will enjoy a lot. Thanks coach!
23/10/2020
Farah I.
Malaysia
ilmu ilmu ilmu
Akhir sekali apa yang saya dapat dalam perjalanan saya ni adalah kepentingan mempunyai ilmu untuk menurunkan berat badan. so kudos to the team.
22/10/2020
Radiah A.
Malaysia
Best experience with coach mabelle
It was a good experience join theme BSK. Thanks to all coach.
22/10/2020
mohd a.
Malaysia
BSK
Bagi saya sentiasa ada penambahbaikan untuk BSK akan datang. Maybe modul senaman boleh diberi terus kepada peserta. Ini memudahkan peserta faham modul senaman tersebut. Zoom meeting aka video tutorial juga boleh di tambahbaik.