Hi & Salam sejahtera semua,
Nama saya Shuha, Saya ingin menolong kaum wanita untuk sihat dan cergas termasuk mendapat berat badan ideal, tanpa mengira umur atau kondisi sekarang. Join me and we will figure out the best plan for you. Ladies only ya. Love, Shuha.

Language: English, Bahasa Malaysia

"Fit Body Strong Faith."
Customer Reviews
Write a Review
Ask a Question
22/10/2020
Nurul S.
Malaysia
16/10/2020
Anod
Malaysia
BSK with Awesome Coach Shuha
Thank you so much for this opportunity... loving the way the BSK programme was conducted.. TIADA PAKSAAN.. u can do it at your own pace... lots of knowledge gained from this programme... luv all the workout and knowledge sharing sessions from KEVIN and all the coaches.... Had an awesome experience with Coach Shuha... love the breathing technique and all the classes with her so much.... hope that the programme will continue in the future.. Pleaseeeeeeeeeee...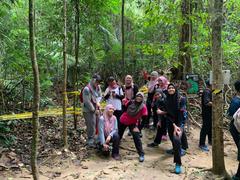 30/10/2020
Intan R.
Malaysia
Inspiring Coach
Bismillah & Salam Alhamdulillah I'm really grateful coz dapat join this program. Coach Shuha is really inspired me a lot. Dia tak strict but lebih macam a mother to me yg akan buat kita dgr cakap dia. Everytime i rasa down i will go to her and luahkan everything and she listened and respond every luahan saya. Walaupun tak pernah bersua muka deep in my heart she is one of my favourite people. With her age she is super active person which i want to be like her bila dah berumur nanti. Thank you so much for your love and support and guidance through this programme Coach Shuha❤️❤️❤️
25/10/2020
Shahida K.
Malaysia
Coach Shuha
Very good. Happy dapat bersama dengan coach Shuha & kawan-kawan dalam group. Harap dapat join lagi next time. Coach sangat best & explain very well dalam pembelajaran.
23/10/2020
NADIA S.
Malaysia
BSK #TEAMSHUHA
Terbaik! coach Shuha always give support to each on eof us EVERYDAY without miss. Cant wait to join another BSK! Good program. no one else like KEVINZAHRI program.The one & only. terbaik! keep it up!
22/10/2020
Nurakmar R.
Malaysia
The best
Coach memang seorang yang supportive. Even dah habis BSK, coach shuha masih lagi cuba membantu kami dan jawab pertanyaan kami. Selain itu, e-learning juga membantu. Tapi lepas habis program e-learning tak dapat di akses. Saya harap ada improvement untuk e-learning. Mungkin lepas ni boleh buat jika dah habis program, kami boleh akses untuk lihat content sahaja. Overall, program ni memang bagus, cuma saya yang bekerja tak dapat berikan komitmen sepenuhnya. Apapun saya berharap program sebegini diteruskan lagi pada tahun hadapan. See you next time coach!
22/10/2020
FARHANA S.
Malaysia
BSK with Awesome Coach Shuha
Thank you so much for this opportunity.. Lots of knowledge that ive gained tru the programme. Luv Coach Syuha n all my team members.... Tqvm Kak Syuha....Bukan soal kurus will definitely help me to live a better/healthier life despite all the makan2 that i luv... :) Please continue this programme in the near future..
22/10/2020
NORAZURA A. HAMID
Malaysia
Coach Shuha Team (Ladies Only)
Well experience coach with vast knowledge from breathing to flexibility to cardio as well as strength training. Best experience while joining her coaching as this team only for ladies and allow us discuss and support each other regarding women issue on health and workout. Beside that, she also shared her experience regarding her fitness journey as a fat fighter overcoming obesity and fit trainer to help others achieving their fitness goal. Her sport science knowledge was very useful for all participants. In the future, more ladies team are needed as most of the participants are ladies. Please make sure she is in for next season.
22/10/2020
Ema .
Malaysia
Coach Shuha
Saya bagi 5 bintang untuk Coach Kevin Zahri dan semestinya Coach Shuha. Coach Shuha sentiasa membimbing ahli kumpulan dan berkongsi ilmu dan tips gaya hidup sihat. Paling saya suka e-learning yang mengajar cara2 mengira bmr, kalori dan lain2 dengan betul. Pencapaian dalam 8 minggu ialah inchloss, turun 4.5kg dan berjaya menghabiskan cabaran virtual run 21km
17/10/2020
Aisyu
Malaysia
BSK Team Coach Shuha
The program is GREAT. A lot of knowledge and info i get from this 8week program. Walaupun agak padat since too much input but the journey is ENJOY. Since the program Bukan Soal Kurus, so CHILL sambil belajar sambil exercise sedar2 ada turun berat. Walaupun tak banyak, 3.7kg in 8week but since i know what i eat and im doing Coach Shuha and team banyak share tips and info yang kekadang kita terlepas pandang. Thank you coach and team Shuha The new beginning is start NOW, with knowledge from BSK will continue enjoy healthy lifestyle. Thanks KZ and all coach yg sentiasa bagi tips dalam setiap workout session.
17/10/2020
Arni
Malaysia
Coach Shuha
Totally satisfied with all the guidance and tips as i hv zero knowledge on health and fitness thingy . Coach shuha was so supportive and really impress with her breathing technique that she taught. Thank u KZ, Coach Shuha and everyone for sharing their knowledge.
17/10/2020
Nik N.
Malaysia
Coach Shuha & BSK
I truly enjoyed the eight weeks of Bukan Sekadar Kurus (BSK) course by Coach Kevin Zahri, under the guidance of our chosen coach. My chosen coach was Coach Shuha. Coach Shuha was a supportive coach throughout the program. She is an experienced coach in fitness and health. She shared with us different type of exercise routines and organised a couple of hiking trips. But what I find quite interesting and very useful is the breathing technique that she taught us to use during exercising. She also conducted extra live workout classes for her group which was quite generous and helpful. Overall BSK is a worthwhile course to participate, (especially for those who want to lose weight, be more fit and active, and has little knowledge in fitness and health), because of the positive support, and knowledge shared throughout the course.