Hi I'm Nadira!
I am a Strength and HIIT coach for 2 years now. I am passionate about health on a holistic level - be it our body, our mind or our environment. I thrive on connections so I am here to help kickstart your health and fitness journey and I will be with you every step of the way. Let's do this!
Language: Bahasa Malaysia, English
"If you can dream, you can do it"
Customer Reviews
Write a Review
Ask a Question
31/10/2020
Noriah A.
Malaysia
Perjuangan Hidup Sihat
BSK adalah satu pengalaman yang hebat sebagai permulaan untuk hidup yang lebih sihat. Aturan dari pilihan makanan, gaya hidup, kenali variasi senaman dan banyak ilmu dapat ditimba dari BSK. Terima kasih kasih pada semua coach terutama coach Kevin dan pastinya juga pada coach Nadira yang banyak memberi tunjuk ajar.Terima kasih ❤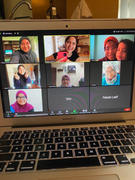 22/10/2020
Afenorain A.
Malaysia
Coach Nadira Totally Awesome
She is so kind, talented and know her job. I mean, coach tahu nak encourage us to not give up this journey. She even asked us to treat her like a sister❤. I learnt a lot from her. Me as a person yang over weight dan ada history slipped disc. Coach help me adjust the work out which is suitable for me to follow. Every day is fun and meaningful. This journey is not about loose weight only. BSK especially coaches, help me to love myself more. Be more grateful for what i have, be healthier and happier from time to time.. I am looking forward for another BSK with Coach Nadira.
18/10/2020
Suhana A.
Malaysia
BSK SEASON 1...TEAM COACH NADIRA... TQVM.. KZ, KKM, DAN SEMUA COACH YG TERLIBAT
Pengalaman yg sgt berharga.. program yg sgt menarik dan sgt2 membantu saya dlm perjalanan utk mengurangkan berat badan.. .. Tqvm sekali lagi buat Kz, Kkm, coach nadira dan semua coach yg telah menjayakan program ini dan sudi berkongsi ilmu yg tak ternilai ini..love u all..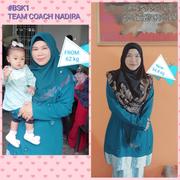 06/11/2020
ani a.
Malaysia
good advisor
best, learn more about healthy life and exercise. thank you so much
31/10/2020
Atikah S.
Malaysia
She is Amazing!
She is bright, super positive and very supportive. I feel very comfortable to talk about anything because she listens well. If she doesn't know something, she will do some research and get back to you with good answers. She doesn't mind repeating everytime we have questions about the exercise. Overall, she is a charm. I love her!
31/10/2020
Faizah L.
Malaysia
Don't want to miss any workout with Coach Nadira
SYUKUR ALHAMDULILLAHI ROBBIL A'LAMIIN... ALLAH izinkan saya terpilih dalam program Bukan Soal Kurus untuk musim ni bersama coach Nadira. Satu pengalaman yang sangat mengujakan dan menyeronokkan bersama coach lebih-lebih lagi bila sesi zoom workout bersama coach. Kalau boleh, memang tidak mahu ketinggalan langsung dalam sebarang workout bersama coach. In fact dah habis program pun, sanggup bayar coach untuk terus sambung sesi workout bersama. Terima kasih coach Kevin, coach Nadira dan semua coach yang terlibat dan juga KKM atas penganjuran program yang tidak ternilai manfaatnya buat seluruh rakyat Malaysia ni... Saya amat berharap program ni akan dapat diteruskan pada masa akan datang bagi membantu rakyat Malaysia dalam menjalani kehidupan yang lebih sihat dan sekaligus dapat mengurangkan risiko penyakit serta masalah obesiti. Mudah-mudahan ALLAH balas segala jasa baik, pengorbanan dan perkongsian ilmu yang dicurahkan dengan sebaik-baik ganjaran di dunia dan juga di akhirat kelak. Aamiin, Aamiin, Aamiin Ya Robbal A'lamiin...
29/10/2020
NOR A.
Malaysia
Great experience
It was a great experience joining this programme. The coach is very helpful and guide us along the way. She shared so much information and knowledge on the best workout techniques and tips.
24/10/2020
NIK N.
Malaysia
COACH NADIRA INSAN HEBAT
Memahami, terbaik
23/10/2020
Afiqah S.
Malaysia
Coach nadira is the bomb
Best sangat sangat, i would love to join next season. Terasa badan sihat, cergas dan yang paling penting dah tak mengah jalan. Knowledge tentang hidup sihat lebih banyak dengan material yang dikongsi dalam e-learning. Barulah tahu kenapa selama ni berat sentiasa naik dan jarang turun hehe. Coach nadira sangat membantu dari segi persoalan, exercise dan banyak lagi. Memang the best!!!!!
JF
23/10/2020
JIHAN F.
Malaysia
Coach Nadira's THE BEST
Certainly loved her! She guided everything and even let us to have options if we cant do some of the formation/workouts. She's very positive and looks happy doing what she did and always gives us motivation. From her workouts I gained strength and improved my fitness level, lots of inch loss and most importantly feel happier with my new lifestyle! Tq so much coach ♥️♥️♥️
18/10/2020
Farahiyah
Malaysia
TERIMA KASIH CIKGU FITNESS SAYA
Rindu coach nadira cakap "I KNOW YOU CAN DO IT", dari minggu pertama tak boleh buat senaman-senaman HIT, sampai dah boleh buat. Saya sendiri menangis. Tak sangka saya ada aje masa untuk exercise. dulu memang tak berminat langsung. Thank you so much coach, insyaAllah kita jumpa lagi di BSK Season 2.
20/10/2020
Kevin Zahri - Official Bukan Soal Kurus Store
You are welcome Farahiyah :)
15/10/2020
Alang E.
Malaysia
Coach Nadira
Thank you so much, coach. For all hardworks. Honestly i'm so happy to be in your team. I'm going to miss you. KZ, Nadira is so good. Keep her for another BSK and i'm going to buy her again. KKM, please make our dream for BSK next year come true. ❤ Her never ending spirit memang awesome. She also asked us to treat her as a friend, not only as a coach. Coach Nadira, you did great. I'll pray for all your hajat dimakbulkan. That's the only thing i can do to repay all your kindness towards me for all this time. I think i need menyorok untuk menangis sebab BSK nak say bye-bye to me in 2 days.