Hi! My name is Logann Nythan. I believe in strengthening your mind body and heart. With my dynamic approach to exercise, you will feel the difference in not only your physical but also your lifestyle.
I have conducted over 1000+ fitness classes ranging from Hiit, Metcon, Functional, Strength and Silat classes.
Language: Bahasa Malaysia, English
"Do or do not, there is no try."
Customer Reviews
Write a Review
Ask a Question
16/10/2020
Sarah
Malaysia
BSK-Coach Logan
Dari dulu lagi bniat nak join group KV..sebab tgk ramai sgt yg berjaya menurunkan berat badan... Akhirnya berjaya joint under program BSK.. Saya rasa lebih bersemangat untuk berjaya..bukan sahaja turunkn berat badan..tetapi jugak dari segi mental.. Ahli group yg sporting serta Coach logan still best.. Nak bersilat.boleh cari coach logan.. Saya hrp program ini dapat diteruskan..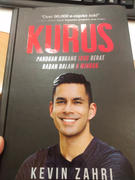 16/10/2020
Sima Y.
Malaysia
Bsk Coach Logan
HAPPY. Saya happy join this program. BSK ni program yang sangat BAGUS, LUAR BIASA pengisiannya , barisan coaches yang dedikasi dan terbaik. ILMU yang sangat bermanfaat buat diri saya, bekalan seumur hidup. TERIMA KASIH SEMUA. Dari 90kg berat saya sekarang 82Kg. Saya akan teruskan perjuangan ini. Ia suatu ibadah juga buat diri saya. Betul, ia bukan soal kurus. Saya nak join BSK 2.0 !!! BSK 1.0 AWESOME
16/10/2020
Khairunnisa a.
Malaysia
BSK SUPERB_coach logan
BSK ni x sama mcm program diet yg pernah sy ikuti. Langsung x sama. Terlalu bnyk ilmu yg sy dpt dr BSK ttg ilmu diet, ttg team work, ttg emosi, ttg kekeluarga, ttg mcm2 la..BSK bt sy berfikir lbh luas. Masalah gemuk ni bkn masalah penghujung dunia. Hidup geng gemuk..... tp jgn gemuk selamanya.let's menchaiyookkan diri.
13/10/2020
Mohd Z.
Malaysia
Superb self experience with #BSK2020
I am grateful to share with all of you that this pioneer program (for me) was a kick start for a long-ranged wellness plan which I ever imagined. Thanks Coach Logan and fellow coaches as well as our dedicated Master Coach Kurus Mr Kevin Zahri for all techniques and right tips for us. Live life to the fullest!!
11/10/2020
Aida A.
Malaysia
Bukan Soal Kurus
I enjoyed the journey very much together with a group of like minded people. The information I gained from this program is valuable not only for me but also can be shared with the people around me. Through this program I managed to instil exercise as part of my daily routine. Thank you to all the dedicated coaches especially Coach Logan for his patience (although only 3-people had participated in his last zoom class). Thank you too to sifu Kevin Zahri for this good program and efforts!