Hi, my name is Kevin Andrew from Kota Kinabalu Sabah,
My ultimate goal is to be able to empower you towards your own fitness (Bukan Soal Kurus) goal with the right knowledge and for you to be able to make it as sustainable habit while enjoying the journey together.
Language: Bahasa Malaysia, English
With the right knowledge, you will understand your body better. "Know Pain, Know Gain"
Customer Reviews
Write a Review
Ask a Question
15/10/2020
karen A.
Malaysia
Coach Kevin Andrew is da best!
#Bukansoalkurus programme has boost up my motivation and dedication to lose weight the healthy way.During the 1st day of this program, all participants are instructed to write our target weight after this 8 weeks challenge and just like dat, I drop almost 6kg.(may seem sikit for some) but this is the highest weightloss I had within 8 weeks. Thanks to the guidance of my coach Kevin Andrew's workout routines and tips, who keeps pushing us to do more and to be healthier. Also not forgetting Kevin Zahri's motivational videos. All the participants supported each other and its a very rewarding experience to join this program.. #nevergiveupneversurrender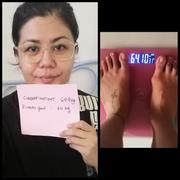 06/11/2020
Abd r.
Malaysia
Awes0me c0ach
He's really m0tivating t0 d0 better...
29/10/2020
Madeline A.
Malaysia
Awesome coach Kevin Andrew
Sangat berpuas hati dengan segala tunjuk ajar dan bimbingan daripada coach Kevin Andrew. Coach selalu bagi kata semangat dan personally saya masih dapat bertahan sehingga sekarang utk meneruskan apa yg sudah saya mulai di BSK dengan so thanks so much for your support coach
26/10/2020
Syazarina A.
Malaysia
The best coach!!!
Selesa , mudah untuk mendengar dan enjoy
22/10/2020
Nurul H.
Malaysia
Coach Kevin the best!
Great trainer, always motivates us. I really enjoyed his group training. Definitely would recommend to everybody.
22/10/2020
Suzana I.
Malaysia
#BSK TEAM Kevin Andrew
Coach Kevin Andrew is amazing & dedicated. Every work out is challanging yet doable and really pushed me to my limits. I have noticed tremendous change in my body composition & my stamina. Overall it's been a great 8 weeks journey for me to join his #bsk team.
17/10/2020
Nurul J.
Malaysia
Not the typical coach
The vibes and style that Coach Kevin has is almost like Coach KZ has! Cool and steady, more on for you to make your own choices. That fits me better than the typical trainer style - that sometimes pushes your limit until you feel uncomfortable and feel bad about not able to push yourself further. He always emphasized on the journey but not neglecting the efforts in achieving the goals. And doesnt make you feel even more stress when you faced any hurdles,or had no progress. Mellowing out the other stresses you get from workout,eating right, sleeping right etc. That's important - the mental state. Because the journey of being healthy is not just a physical journey..it is also mental journey.
13/10/2020
Norazlina g.
Malaysia
Kevin andrew the best coach!
I feel motivated and the coach very kind and understanding! Good to be in team with him.