Salam Malaysia, saya Coach Izzat dan saya akan membantu anda semua untuk menurunkan berat badan dengan cara senaman dan diet yang betul. Tidak perlu kos yang mahal untuk menjadi lebih sihat. Hanya perlu lebih proaktif.

Language: English, Bahasa Malaysia

"Cari jalan! Bukan cari alasan!"

Customer Reviews
Write a Review
Ask a Question
22/10/2020
Mohd H.
Malaysia
Coach Izzat best!!!
It was a very good 8 weeks session with Coach Izzat. He shared all his knowledge and experience on living a healthy life and becoming a better person. As a bonus, I lost 10.8kg at the end of this program. I'm super HAPPY!!! Now I can fit into my old clothes. Keep up the good work and share your knowledge with all Malaysian so that everybody can live a healthy life.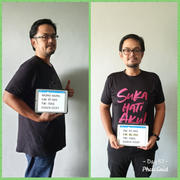 18/10/2020
Erni t.
Malaysia
Thank you BSK and Team Coach Izzat team terbaik,,arooooo❤️❤️❤️
No words can described..Betapa beruntungnya saya dapat join this program Terasa sedih dan bermacam emosi dirasai..dengan berakhirnya program BSK ini,berakhir la juga rutin harian selama 56 hari dengan coach masing masing..terasa sebak walau hanya sekadar virtual..program ini telah memberi kesan yang mendalam kepada emosi mental dan strength..in positive way... Daripada berat ke kurus,daripada malas jadi rajin,daripada 10min excercise jadi 30min dan lebih,daripada tak tau meal plan,bertukar jd chef professional to create a good meal,daripada 1km walking bertukar boleh jadi 8 km ..so proud of my self..dan semua yang berlaku ini adalah melalui ilmu yang diturunkan oleh coach izzat..jujur sy katakan,selama journey to kurus saya ni,bermacam group dan coaching sy pernah join,tetapi dengan coach izzat,memang sangat memberansangkan..tidak pernah dibiarkan sunyi tanpa info..sentiasa rasa bersemangat.. Peranan group juga sangat membantu dalam mengekalkan momentum ..ada ketika kita down dan coach with team sentiasa ada utk build up semangat..coach selalu pesan,untuk kekalkan semangat dalam journey to kurus,kita mestilah kena faham bahawa kita mencari PROCESS ORIENTED,NOT RESULT ORIENTED...dan dalam masa sama kita akan dapat rasa that's the journey..kekalkan habit yang kita dah buat semasa program BSK ni,pesan coach....bukan fokus hanya pada result penimbang berat..dan ini adalah hasilnya..7 kg hilang dengan hanya jaga makan,yang dlu sy ingt jika diet,perlu berlapar..dh banyak buang masa selama ini.. ..for 56 days,up and down and then,this is me,,slowly but surely.im happy with this journey.. Thank you BSK and surely thanks a lot to Coach izzat,team terbaik...arooooo❤️❤️❤️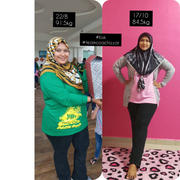 27/10/2020
Azreel S.
Malaysia
Coach Izzat
I highly recommend Coach Izzat, he is knowledgeable and a fantastic coach.
23/10/2020
Maisarah I.
Malaysia
Terima kasih coach!
I'm glad that I've chosen one of the best coach. He is very knowledgeable. Answers every question precisely and clearly. Encourage us to reach our goal but not by force. Appreciate everyone's contribution in the group. It was a meaningful experience with him as a coach. Thank you
22/10/2020
Nurzainatul H.
Malaysia
OHSEM COACH
Coach izzat seorang yang sangat supportive dan sangat positive dalam membantu kami dlm virtual program ni.,....even dlm virtual tp sokongan coach izzat seakan2 real program face to face...hari2 coach izzat akan bagi ilmu, jawab soalan, dan mcm2 lagi....even sy suka pm tepi coach tanya psl diet dan pemakanan coach tetap akan jawab... tq coach....sy doakan coach izzat sentiasa dimurahkan rezeki dan diberkati Allah selalu....Aamiin...
17/10/2020
Nuraisyah A.
Malaysia
BSK 2020 #KevinZahri #coachizzat aka clerk kent
1. Terima kasih yang tak terhingga kepada semua coach bsk terutamanya coach izzat. 2. Kepada cikgu fitness kita. Kevin Zahri terima kasih dangat dangat melayan dan berikan feedback emel sy untuk beberapa soalan dan permintaan saya 3. Ilmu fitness yang diberikan oleh coach izzat dan coach kevin yang x boleh dapat kat mana-mana. Rugi pada mereka yang xnak masuk program ni. 4. Team coach izzat yang supportive yg akan sy rindui 5. Dengan perubahan fizikal sy ni. Buat kan sy lg bertambah yakin tapi tetap mengamalkan norma norma sosial tanpa melakukan body shaming pada org lain.. tp sy dah berani untuk mengajak dan memberikan semangat pada mereka yg hendak kurus dengan kurus sama sama. 6. Bila ada jodoh saya akan join lagi untuk tambah lg ilmu kesihatan ini. Thank you sooo much coaches ❤️❤️
17/10/2020
Aina A.
Malaysia
BSK - TEAM COACH IZZAT AROOO!!!
Alhamdulillah, syukur Ya Allah.. saya digerakkan hati untuk join program BSK ni & pilih COACH IZZAT.. tak salah keputusan tu.. satu pengalaman dan journey yg tak dpt saya lupakan.. banyak suka dari duka sebenarnya, especially nak berperang dengan diri sendiri - nafsu makan & malas nak exercise.. BSK is a good platform utk healthy living.. banyak info regarding diet & exercise yg saya belajar in this 8-week program.. sebelum ni saya nampak end-point adalah weight loss jer.. Tp BSK actually had taught me that healthy living is the end point. Weight loss, inch loss, stamina - these are the bonuses towards healthy living. Betul la, it is BUKAN SOAL KURUS.. Thanks to coach Kevin & other coaches as well as KKM for organising this BSK. Thanks a lot to COACH IZZAT.. sangat easygoing, understanding, approachable, knowledgeable & very supportive.. our weekly zoom sessions were awesome.. menjawab segala persoalan & our misunderstandings towards diet & exercise.. explaination yg simple & senang faham.. Paling best, rajin melayan karenah anak2 buah yg nakal2 ni.. asyik mintak cheat day jer.. Also to my teammates, you guys are the best & very supportive!!