Hello Fitness Fighters! Coachy Cruz here.
Let me assist you in your 8-weeks healthy weight loss journey by guiding you to have a positive attitude, a positive self-image, and living a healthy lifestyle which includes flexible eating and being active daily. Time to live life to the fullest! Hoohaa.
Language: Bahasa Malaysia, English
"Live Life Strong; Physically, Mentally and Emotionally"
Customer Reviews
Write a Review
Ask a Question
22/10/2020
NUR F.
Malaysia
Awesome programme!
Coach Cruz is a very dedicated, knowledgeable and kind hearted coach. Always got motivated by her speech and her workout is fun and very engaging. Been a pleasure to workout with her under previous Programme too and i realized this is a lifelong journey. Just trying my best to learn and adapt healthy lifestyle throughout the year and not only during a programme. Thank you KZ for all your efforts to collaborate with KKM and KPM. Our kids are getting less healthy food and less playing outside nowadays. While rate of heart disease, high bp and diabetes are on exponential rise. Millions are spend on medications but so much less were spent on prevention. Hopefully we can come out with a thorough nutrition and lifestyle programme that suites our cultures and norms and all can come hand in hand to contribute for healthier Malaysians.
17/10/2020
Zura S.
Malaysia
BSK Team Coach Cruz d Best
My heaviest weight was 94kg on Dec 2019. Since last year, I really interested to join Jom Kurus but cannot manage the time. So I just do slow jog everyday but my weight keep floating up and down. During MCO on march, I start to keep on diet consistantly and manage to reduce my weight to 88.6 kg before start BSK. This program really helpful. Give me more knowledge on my food and calories intake. Live workout also very helpful in giving info on good posture during workout. The journey still long and hopefully I will keep strong. Lastly, Coach Cruz, u are awesome. Coach kevin and all others coaches. U all also awesome. Team coach cruz family, u all are super duper awesome. #teamcoachcruz #bskfamily Meet uolls again next year.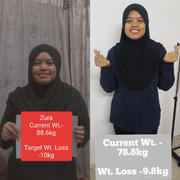 06/11/2020
Noor H.
Malaysia
Coach cruz , KZ - BSK
I the fact that someone out therw is overseeing my back to naturally journey. It is definitely a good move to have this coaching done online, with a platform to turn to when in doubt and an actual coach to seek advice from. My journey in BSK was not a successful one - but here i am again. I am getting back-on-track , slowly ( and many downs i guess) but surely. this.
22/10/2020
Lim S.
Malaysia
BSK review
The programme is really good. Especially guide by the brilliant coaches, in patience, with passionate.
RK
22/10/2020
ROBIAH K.
Malaysia
Good startup program for beginners
Overall, the program was a good start for someone who wants to get fit, healthy and strong. The online courses provided, online training and tips provided were very useful and applied to every day's life. The coach is very knowledgeable and helpful in entertaining all questions from participants. Thank You Coach Cruz. Hopefully this program will be continued in the near future.
22/10/2020
mohd n.
Malaysia
easy and cozy
easy to follow and effective
22/10/2020
Victor W.
Malaysia
Awesome
This programme really help me to improve my lifestyle. It also gives me many benefits and information all about health and fitness. I still in process to reach my body goal, and its improving from time to time with the help from coach Cruz and also from this programme. Thanks to u all..
22/10/2020
Nurul S.
Malaysia
Excellent
Coach cruz was a good coach.always guide me how to keep fit from the first day the course started.she always remind me to control my daily food intake.thanks a lot for the awesome weight lost journey.
22/10/2020
HANI S.
Malaysia
BSK Coach Cruz
2 thumbs up! Very closed coaching
16/10/2020
mohd n.
Malaysia
usaha tangga kejayaan-coach cruz
2 minggu pertama saya amat teruja dan mengikuti segala aktiviti dan membaca segala tips dari website bsk...akan tetapi kerja yg tak menang tangan membuat saya alpa dan amat letih utk mengikuti segala aktiviti selebihnya. Ditambah dengan aktiviti mingguan yang membataskan penglibatan aktiviti bsk. Saya amat berminat utk membuat semula semua aktiviti yang telah d8laksanakan dengan membuatnya di masa yang saya sendiri akan tentukan. harapan saya agar semua tips dan latihan yg telah dibuat masih boleh disimpan dan diekses oleh peserta. tahniah coaches
13/10/2020
Hafilah H.
Malaysia
Bukan soal kurus!
I love this programme! Boleh tak nak ada lagi siri seterusnya please TQ to all coaches especially for my pretty lovely Coach Cruz. Tq tq so much Aku lost 5kgs weii!!!
I've came across with Coach Cruz during MCO through her IG and have been following her ever since. The way she explain every workout in details really help me a lot in adjusting my posture and doing it correctly. Currently I'm joining Coach Cruz's Fit Project 4.0 where I found motivation to workout and to push myself to the limits. There are varieties of workout provided; Tabata, Weight Lifting, Cardio and even MuayThai. In short, i highly recommend Coach Cruz coz she's simply amazing and the best online coach ever!! Love u coach! Hoo hah!!