Salam & Hi, Saya Andy Teh.
Dengan kombinasi pengalaman saya dan kepercayaan anda, kita akan berusaha bersama sama untuk mencapai tahap 'tak risau bila makan Ice cream'. Your problem is now my problem.
7 times Malaysia striking champion & 5 times Brazilian jiu-jitsu gold medalist.
Language: Bahasa Malaysia, English, Mandarin
"I don't count on motivation, I count on discipline."
Customer Reviews
Write a Review
Ask a Question
30/10/2020
Siti H.
Malaysia
Tegas dan Ringkas
Coach Andy adalah seorang coach yang sangat ringkas orangnya dan dalam masa yang sama sangat tegas dan "straight to the point" kind of coach; which I love sebab senang nak fokus pada perkara-perkara yang penting sepanjang coaching program. Walau bagaimanapun, Coach Andy sebenarnya adalah seorang yang sangat rileks dan very friendly. As I said, ringkas. Tapi padat dengan PLANK. Hehe but worth every seconds and minutes buat plank dengan Coach Andy. 30 seconds plank used to be very hard to achieved, imagine 2 minute? That's like 30 seconds times 4. Almost impossible for me! But berkat dorongan dan latihan yang Coach Andy bagi, I managed to plank 2 minutes successfully! Thank you very much Coach Andy. It was really an enjoyable journey and looking forward for more BSKs in the near future! ;)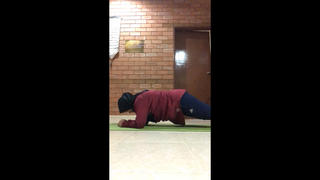 23/10/2020
Mohamad H.
Malaysia
Great coach
Coach Andy is very passionate and sincere in helping people out. He watches over us and I'm glad I'm with him in this journey. I am grateful and owe a lot to Coach Andy.
16/10/2020
Raheemah
Malaysia
Awesome coach
Coach andy memang sgt2 awesome. He explains well if we have any queries and I have gained a lot of information from him. He has made be stronger now I am able to complete my workout better compared to my previous years. Before this it was difficult for me to even complete a 30s plank but on the last day of our Virtual class I managed to complete 2mins plank and also do about 10 burpees in 1min which I am very proud of. Honestly I am not a fan burpees but because I feel stronger and fitter I tried to do and I managed to do 10burpees it was a big achievement for me. also I am very happy that I have learnt a little basics of muay thai which is quiet interesting and Now i feel like joining muay thai class :)) Thank you so much for your guidance. Also HUGEE thank you to Master Kevin Zahri for organizing this awesome virtual "bukan soal kurus" & coach gaya & all the other coaches for the zoom workout and daily workout that all of you prepared for us. I hope to join BSK2 very soon❤️
14/10/2020
Shafizah
Malaysia
Hi Coach Andy!
I am satisfied and glad to choose him as my BSK coach. He is friendly, fun and supportive person. I love his closed group workout session every week. He taught us the right exercise technique and keep motivated us. Even though he quite busy with his schedule, but he managed to find time for his coachee. Besides, he helps me find a solution for my back pain problem which is I had it for almost ten years and also helps me unlocked my target (1-minute plank). One of his advised that makes me keep continue in this BSK program is "Don't give up on yourself, because me (Andy) never give up on you" Thanks, coach Andy for all your knowledge and time you spend on us!
14/10/2020
Raja A.
Malaysia
Power Rangers
This coach ah, bukan calang2 oh..satu dalam sejuta..memang power gila! he knows his things la tp yang paling penting always2 encourage us to do the best we can and push us to our limit..solute and respect to coach Andy!
13/10/2020
ERYA G.
Malaysia
Andy Teh tai haole!
Really enjoyed and had a very good time dengan #TeamCoachAndy. Andy sentiasa meleraikan persoalan yang berlegar di minda peserta. He always give us clear instructions, motivate us, sangat supportive, and of course kelakar, buatkan peserta tak rasa kekok untuk berdiskusi dalam group. Fun workout session, and always excited to join his class every week. Dia suka bagi plank between exercise sets, dan hasilnya dah boleh buat plank more than 1 minit 30 saat. Thank you Coach! Next season please buat workout group session 2x seminggu tau. "I champion no use. Yang penting, I need to make uolls champion in life. Champion in handling your ownself." - quote by Andy Teh, kena pahat dalam hati. Terima kasih untuk setiap ilmu dan tunjuk ajar! You are amazing and awesome, coach! tai haole! BSK season 2, pls!
13/10/2020
Nor
Malaysia
Awesome Coach
Always looking forward to Coach Andy's personal group workout session week after week. Pushing our limits, we don't know that exists. Very professional and fun to work with, always gives us reward (1 min plank session =)), that we never thought we could get through! Thank you Coach Andy!
13/10/2020
NJ I.
Malaysia
Coach Andy Teh
Very professional. Makes the effort to motivate & reach out to participants.
13/10/2020
aisha
Malaysia
Thank you Coach Andy
Coach Andy was attentive to each one of us in the group. He is the best motivator I could ask for as a beginner in this program. Thank you!
13/10/2020
intan
Malaysia
coach yg gempak
coach andy ni garang sebnar ny wpn nmpk klakar. tp dia selalu bizi, pasal dia pelakon lelaki ala2 hongkong superstar gitu. dia sgt kuat, jgn buat dia marah. bahaya utk keselamatn. lol. gaya senaman dia byk tumbuk2 dan bersiap lah utk plank sekerap mungkin. andy cikgu yg bagus, komen saya, saya lebih suke kalau andy lebih kn lg cheer peserta, shout out, sokong kuat2, tunjukkn sokongan emosi pada setiap masa, di mana jua. tolong jgn tumbuk sy coach ✌️takut. salam, double standard punch.
13/10/2020
Sharifah N.
Malaysia
BSK Review
Andy is someone that will motivates us & very committed to help us despite having a busy & hectic schedule. He is also very professional & always cater to our questions in whatsapp. He also provide guideline on any issue encountered. Will always pick him as my coach in the future should I rejoin this...
13/10/2020
Hanan
Malaysia
Experience
Really enjoyed the class with coach andy...selalu motivate kitorang supaya buat yang terbaik fan yang paling penting saya suka cara coach andy handle class sebab always on time