Available Now! Jangan terlepas untuk memiliki buku terbaru Cikgu Fitness Malaysia Kevin Zahri, "Kurus" - Panduan Kurangkan 10kg Dalam Masa 6 Minggu dalam bentuk eCopy.

Downloadable PDF Version

400 Muka Surat.
Penuh Warna.
Bahasa Malaysia
Panduan buku ini berdasarkan kisah-kisah kejayaan kurangkan berat badan program kurangkan berat badan #1 Malaysia, Jom Kurus, yang diasaskan oleh Kevin Zahri sendiri sejak 2014.

#1 Kenapa Susah Nak dan Kekal Kurus?
Setelah lebih 10 tahun dalam Permulaan buku ini bincangan ups and downs dalam bidang "Jom Kurus", Kevin lihat pelbagai kisah kisah kejayaan, kisah "rebound", kisah yang penuh inspirasi dan pelbagai kisah yang menyumbang kepada masalah obesiti secara am.
#2 Jom Bermula Dengan Realistik
Bab ini bincangkan dan memperkenalkan cara yang memulakan dan melakar program kurangkan berat badan yang realistik. Termasuk tanda-tanpa dan faktor yang sering menyumbang kepada "burn-out", stress dan kegagalan pelan kurangkan berat badan untuk jangsa masa pendak mdan panjang.
#3 Panduan Kurangkan 10kg Dalam 6 Minggu
Pasti ini adalah tarikan utama majoriti pembeli buku Kevin Zahri dan kaedah ini telah digunakan oleh begitu banyak kisah kejayaan program Jom Kurus. Ia tidak mudah. Ia bukan soal kurus cepat tapi bab ini penting untuk anda memahami dan membina pelan pemakanan, senaman dan gaya hidup untuk kurangkan berat badan 10kg dalam 6 minggu yang UNIK.
#4 Rahsia Kurus Cepat: 4kg Dalam 1 Minggu
Bab ini penting! Bukan untuk anda mencubanya tapi untuk bantu anda memahami dan tidak mudah diperguna produk-produk dan trend diet yang sering viral di social media. Dalam program Jom Kurus ramai yang kurangkan berat sehingga 6-8kg pada minggu pertama. Ia tidak semudah dan seindah yang anda sangkakan tapi ia penting untuk anda memahami kaedahnya.
#5 Senaman dan Kecilkan 5P: Perut, Peha, Punggung, Pipi dan Pinggang.
Nak kecilkan perut? Pipi? Punggung? Senaman memainkan begitu banyak peranan dalam usaha anda untuk kurangkan berat badan, tingkatkan stamina, kuatkan badan, bentuk badan, kecilkan bahagian bermasalah tapi bantu kuatkan mental untuk kekalkan perjuangan "Kurus" anda. Bab ini bincangkan EVERYTHING yang anda perlu tahu dengan senaman.
#6 Mitos & Trend: Diet IF, Losyen Mustajab, Sauna …
Jom bincangkan pelbagai trend "kurus" yang sering menjadi ikutkan dan sebutan di social media dan mana-mana seminar Jom Kurus. Setiap trend, produk atau treatment mempunyai kaedah dan "rahsia" yang penting untuk anda mehaminya supaya anda tidak diperguna tapi boleh pilih sendiri untuk mengguna ataupun tidak.
#7 20 Kisah Kejayaan Jom Kurus
Bab ini memperkenalkan 20 kisah kejayaan dan perjuangan program Jom Kurus yang telah disertai oleh lebih 40,000 peserta seluruh Malaysia. Setiap individu akan kongsi kisah, gambar dan suka-duka perjuangan masing-masing. Dari kisah-kisah ini ada yang kurang 100kg, ada yang kurang 0kg setelah sertai 10 musim Jom Kurus dan ada yang dah kurang 40kg dan naik semula 40kg. These are real life stories.
#8 Kenapa KZ Selalu Positif?
Dapatkan gambaran kehidupan dan amalan gaya hidup Kevin Zahri di mana beliau kongsi tip kawalan keseimbangan kehidupan, tip kawalan stres, kunci positif, perkongsian duka-cita kehidupan, pengajaran membesar di Jerman, kehidupan di asrama, luar negara dan "rahsia" positiviti dan "awet muda" di usia 40an.
#9 Positiviti & Kesihatan Mental
Lebih 100 muka surat sepanjang buku ini fokus kepada aspek kegembiraan dan kepentingan kekuatan mental dalam usaha dan perjuangan anda untuk kurangkan atau kekalkan berat badan.
#10 Kids – Bukan Soal "Kurus"
Sempena kempen Jom Kurus Sekolah yang sudah tentu juga fokus kepada kawalan berat badan dan kurangkan kadar obesiti kanak-kanak. Buku Bonus ini berikan pelbagai tip dan amalan keluarga Kevin Zahri sendiri untuk kawal berat badan dan membesarkan anak yang cergas, cerdas, ceria dan sihat.
Customer Reviews
Write a Review
Ask a Question
13/10/2020
Aliceivana D.

Malaysia
Suka Hati aku
Sangat berbaloi beli buku suka hati aku, even i just bought an e-book. Isi kandungan buku ini sangat bermanfaat untuk saya yang selama ini hanya berdiet atau nak turunkan berat badan mengikut kata-kata orang sekeliling tanpa ada pemahaman yang jelas. Satu benda yang sangat memberi kesan positif kepada saya selepas mendapatkan buku ini ialah, tak risau dan tertekan bila nampak orang sekeliling turun berat secara drastik dalam tempoh masa yang sangat singkat. Thank you coach Kevin Zahri! Sangat berbaloi beli buku ni.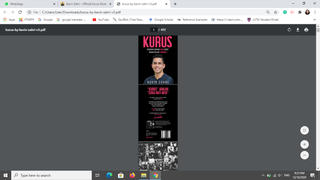 19/10/2020
Kevin Zahri - Bukan Soal Kurus Store
Hello and hi Aliceivana, Glad you enjoyed the eBook wishing you all the best with your fitness goals. Chaiyok!
27/04/2020
MUHAMAAD FAIZ S.
16/04/2020
Nur Athirah S.
To be honest, I like this book. I like the way of calorie deficit counting that i never thought of. This book helps people that are facing problems in losing weight. Really a motivational book and a step by step journey. But theres part that i doubt about the info which has no reference and citation especially the formula, the activity factor , and the calorie counting and other facts(which resources are you refering). Im sorry to say that, as a dietitian , i know the formula, the activity factor used in BMR calculation, the correct ways to calculate the calories/menu planning.. think you can improve on the citation and reference part? But as the overall the book is good. Thank you.. just sharing my thought.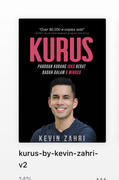 "Kurus" is an all -rounder, where it touched on several aspects of losing weight, the dynamics behind it , will power, etc. . However, what really made the book a stand out is the fact that Kevin related his life story in the book. This makes him human, and relatable to us mere mortals. :) However, I think the book needs more scrutinizing by the editorial team as I can find many errors in spelling. Yes, the book is in informal Malay / English but it irked me when "naturally" is not spelled correctly -Page 377. I find his tips useful, but not focused. Many of his tips are duplicates and can be grouped into one. I also find that the way the tips are arranged - in a cube -format not easily read. On page 375, the photo is covering part of the text. Quite frustrating. There was also a duplicate on pages 332 and page 350 - " Jangan over complicate". -Unless this is done intentionally, which I apologize in advance. Overall though, quite a good , useful read for me. I think the book emphasizes on mental willpower and not following the herd, which is of paramount importance.
Superb... this book really increase my knowledge on dieting. Will recommend to others.
The contents of the book so interesting and motivate me to achieve my target to reduce my weight.
Purchase this for my daughter who is striving to lose weight. The practical tips and steps are useful for her. Besides this is a much healthier option in losing weight.
I really loved this book as it's not your common 'how to lose weight' book. Most books would tell you what to eat or what kind of exercises you must do but this book gives you a basic fundamental understanding of calories and its relation to your body plus the suggestion of different diet plans and workouts which helps you chart the best weight loss experience for yourself. With the help of this book, I've managed to lose close to 15kg in the span 3 months!
Penulisan yang mudah difahami dan yang paling penting adalah pengetahuan asas untuk kita mengurangkan berat badan dan seterusnya keep fit.
This book is really good for your guide in lost weight journey