Updated for 2021
Must have untuk mereka yang ingin lakar dan track penurunan berat badan. 
Premium "Suka Hati Aku" 2020 Planner yang direka khas oleh Kevin Zahri, Cikgu Fitness #1 Malaysia, berdasarkan program kurangkan berat badan 6 minggu, positive mindset dan tabiat tracker yang akan bantu anda stay on track dan kurangkan berat badan sepanjang tahun.

208 Muka Surat
Premium Ivory 80gsm Paper
Design and Layout by Kevin Zahri
Planner ini mempunyai 208 muka surat yang direka khas untuk bantu anda kekal fokus dan disiplin sepanjang program 6 minggu ataupun program sepanjang tahun.
Ia termasuk kandungan khas:
Weight Tracker
Daily Calorie Requirement
Calorie Tracker
Goal Setting
Workout Tracker
Kata-kata Semangat
Ultimately, planner ini akan bantu anda kekal motivasi dalam perjuangan "Kurus" anda.
Customer Reviews
Write a Review
Ask a Question
10/02/2021
Azlina M.

Malaysia
My health journey planner
I love this planner concept which i never have before. It remind me the whole year of my health journey & the most important it suka hati aku ☺️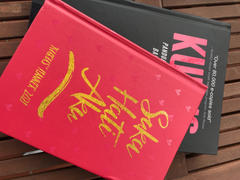 15/02/2021
Kevin Zahri - Bukan Soal Kurus Store
Thank you Azlina for taking care of your health. Stay safe during these challenging times.
22/09/2020
Chicha E.

Malaysia
03/03/2021
Norajaisyah M.

Malaysia
Review sebagai pengguna diari diet SUKA HATI AKU
BEST, sangat membantu perjalanan dan pemantauan diet dan senaman saya! Saya hanya perlu monitor apa TARGET saya setiap hari, apa workout saya buat dana apa yang saya dah makan selama proses diet ini!!
02/03/2021
Harynjeet S.

Malaysia
Ok lah.. sy boleh guna as a notebook disamping dapat tips ² yg terdapat dalam buku itu
23/02/2021
Nourfatihah S.

Malaysia
Good Planner
Planner ini sangat membantu saya dalam manage my kurus journey. Saya sangat suka the Calorie Tracker.
08/02/2021
Aisyah H.

Malaysia
Pretty and easy to use
It is very pretty and I love the quotes you can find in there. Also has weight tracker too! Very useful and definitely a good buy!
20/02/2021
Kevin Zahri - Bukan Soal Kurus Store
Thank you for your support Aisyah. Keep inspiring those around you.
08/02/2021
Hp T.

Malaysia
"Suka Hati Aku" Planner 2021
Love this Planner.
20/02/2021
Kevin Zahri - Bukan Soal Kurus Store
Glad you love our planner HP :)
06/02/2021
Nurzawani M.

Malaysia
Planner
This planner is awesome and good to track your progress!
23/10/2020
MASTURA A.

Malaysia
'Pembantu Kurus'
Planner yg bntu sya utk kurus.. segala notes sya catat dlm ni... Terbaik.
01/09/2020
Intan

Malaysia
Kertas sangat berkualiti
Suka sangat. Kandungan sangat sesuai utk saya yang nak kurangkan berat badan dan nak catat diet pemakanan. Thank u sir.